Menu:
Overview
Red Alert 3 Forum
Install / Patch Guide
Downloads
Community Summit:
Images:
Screenshots
Xbox 360 Screenshots
PlayStation 3 Screenshots
FMV Screenshots
Concept Art
Box Art
Actors
Women of RA3 Wallpapers
Information:
The Premier Edition
System Requirements
Patch Notes
Press Releases
Characters
Co-Commanders
Factions
Arsenals:
Allied Units
Allied Structures
Soviet Units
Soviet Structures
Imperial Units
Imperial Structures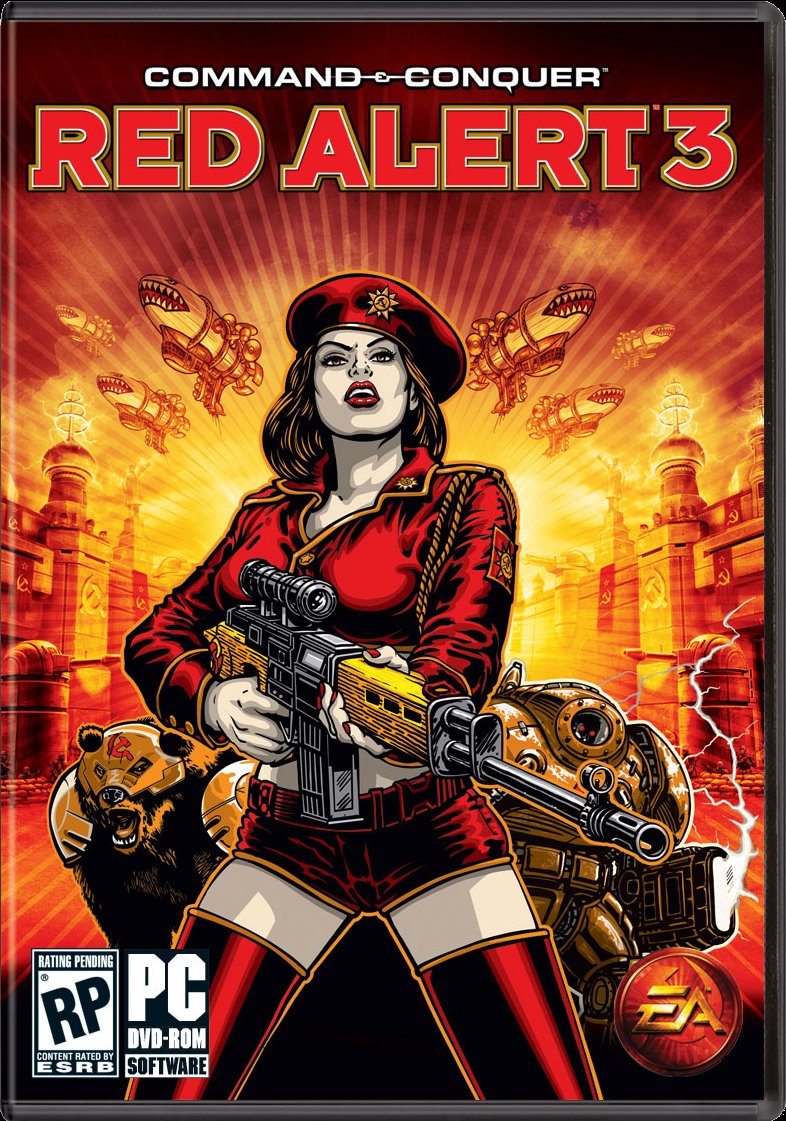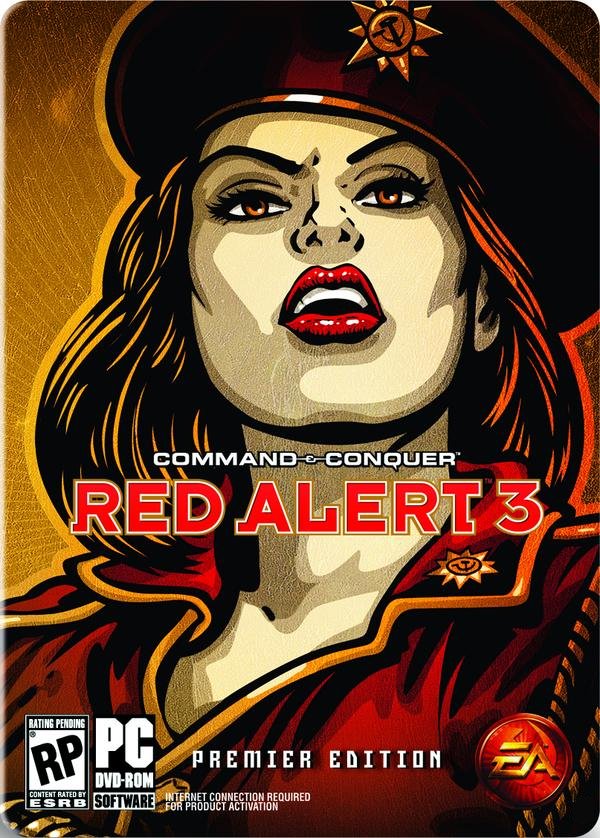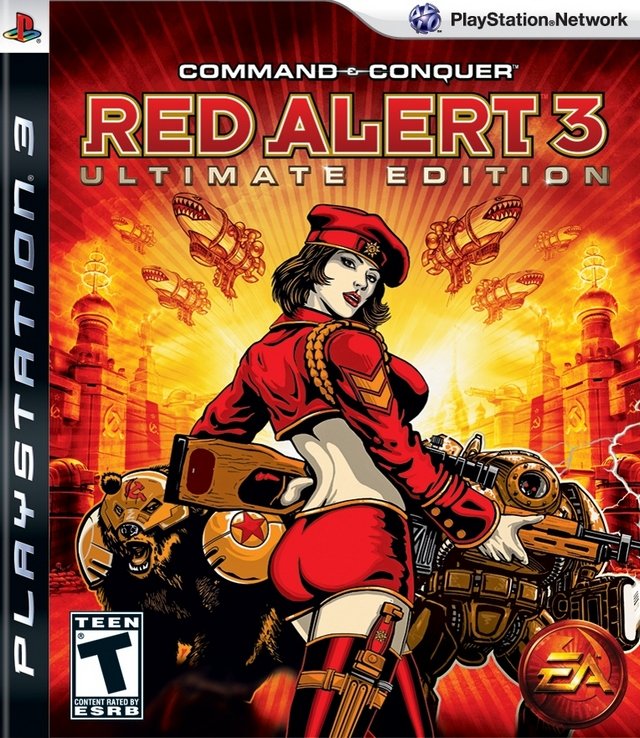 Game Tracker
Developer EA Los Angeles
Publisher Electronic Arts
Platforms Windows, Mac OS X, Xbox 360, PlayStation 3
Release Date 28/10/2008 (US, Win) | 30/10/2008 (EU, Win) | 06/11/2008 (AU, Win) | 07/11/2008 (NZ, Win) | 11/11/2008 (US, Xbox 360) | 13/11/2008 (EU, Xbox 360) | 03/2009 (US, Mac) | 23/03/2009 (US, PS3) | 27/03/2009 (EU, PS3)
Current Version 1.12 (Windows only)
What is Red Alert 3?
After seven years, Red Alert returns! After a time travel mission goes awry, a new superpower has been thrust onto the world stage and World War III is raging. The Empire of the Rising Sun has risen in the East, making WW III a three-way struggle between the Soviets, the Allies, and the Empire with armies fielding wacky and wonderful weapons and technologies such as Tesla coils, heavily armed War Blimps, teleportation, armoured bears, intelligent dolphins, floating island fortresses, and transforming tanks.
Red Alert 3 features three sides that differ even in the way they construct their buildings. Many units are amphibious and most structures can be built on water, as one of the game's key points is trying to give equal attention to ground and sea battles. Resources are now found in ore nodes that can be operated by a single collector unit, and can also appear in the water.
Support powers and bonuses are given through the Top Secret Protocol system, which uses points as a currency that can be gained through battle. Each unit has a special ability, which can be a special weapon, weapon/mode switch, or a simple return-to-base command.
For the first time, the campaign is entirely co-operative. Players can either play with an assigned AI co-commander and give them basic orders, or play with a friend online (formerly through GameSpy, now C&C:Online; not compatible with LAN). Each faction has its own campaign with 7 missions each.
Video Trailer
Features
The Return of Red Alert! – After seven years, the most popular series in EA's 25-million unit-plus selling Command & Conquer franchise has returned with a vengeance. Red Alert 3 brings back everything fans loved about the series, the humour, the popcorn style story and the franchise?s fast, action-oriented gameplay, while breaking new ground for the genre, with an entirely co-operative, story-driven campaign campaign mode and an increased emphasis on naval gameplay.
Co-Op Done Right – Every mission is designed from the ground-up with co-operative gameplay in mind. Join forces and strategize with friends online or join forces with nine AI commanders, three for each faction, all of whom have their own unique personality and style of play that might come in handy depending on the situation.
Command the Seas, Conquer the World – Experience Gameplay as for the first time in the series, waging war on the water will be every bit as important as dominating by land and air. Gain strategic advantages by controlling resources in the seas and mounting three-pronged attacks from all directions.
A New Threat from the East – The Empire of the Rising Sun is a technological terror, with unit designs influenced by a mixture of science-fiction, martial arts and robot culture. The Empire's futuristic units can transform into alternate forms, and they specialize in naval warfare.
Star-Studded Storytelling – Command & Conquer's trademark live-action videos return in HD, with over 60 minutes of footage featuring the largest cast in the history of the Command & Conquer franchise.
CommandStick 2.0 – Improving on the CommandStick interface first pioneered in Command & Conquer 3 Kane's Wrath, 360 owners will get an unparalleled console RTS experience, with controls that continue to bridge the gap between the PC and 360 and a game designed to meet the needs of the console gamer.
Is There Any Doubt Red Alert is Back? – Armoured War Bears, Sonic Dolphins, Tesla Troopers, Vicious Attack Dogs, Man Cannons and Tanya. Welcome back!
Names in different languages
French: Command & Conquer: Alerte Rouge 3
German: Command & Conquer: Alarmstufe Rot 3
Ultimate Edition for PlaySation 3
Command & Conquer makes its long awaited return to the PlayStation platform with Command & Conquer Red Alert 3: Ultimate Edition, exclusive to the PlayStation 3.
The Ultimate Edition includes everything from last year's award-winning release of Command & Conquer Red Alert 3 on the PC and XBox 360, while taking full advantage of the PlayStation 3's Blu-ray disc capacity, offering an extensive array of exclusive bonus content, making the Command & Conquer Red Alert 3: Ultimate Edition the ultimate Red Alert 3 experience and an incredible value for PlayStation 3 gamers.
"Our team has been dedicated to bringing the RTS genre to console gamers and we are excited to have this opportunity to introduce PS3 owners to Command & Conquer," said David Seeholzer, Development Director at EA Los Angeles. "The PS3 is a very powerful platform, and the extra time we have had in development has helped us create the ultimate console RTS experience, with better graphics, improved performance, a ton of extras and some nice exclusive perks that cannot be found on any other version of Red Alert 3."
Command & Conquer Red Alert 3: Ultimate Edition also packs in a tremendous amount of bonus content, including:
Five exciting new multiplayer maps
Behind the scenes videos and trailers, including Raising the Iron Curtain Documentary, From Pens to Pixels, the Girls of Red Alert 3, Bloopers & Out-takes, the Red Alert 3 Remix and many more!
PS3 exclusive Command & Conquer TV programming, including PS3-dedicated BattleCast PrimeTime and a special episode of Command School focused on tips, tricks and strategies from the development team
In-depth profiles on all the Red Alert 3 Units
The official Red Alert 3 soundtrack
Names in different languages
French: Command & Conquer: Alerte Rouge 3
German: Command & Conquer: Alarmstufe Rot 3
Ratings
ESRB: Teen | Blood, Mild Language, Mild Suggestive Themes, Violence, Online Interactions Not Rated by the ESRB
PEGI: 16 | Violence, Online
BBFC: 12
USK: 16
OFLC (AU): M | Violence
Find Out More?
You can look at it all by browsing the menu to the left.
Comment