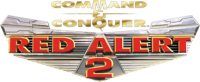 Menu:
Overview
Red Alert 2 Forum
Install / Patch Guide
Downloads
Collector's DVD Gallery:
Making of RA2
Kari Wührer
Udo Kier
Concept Art
Box Art
Ad Concepts
Rejected Concepts
Images:
Ingame Screenshots
Concept Art
Box Art
Information:
The Story
Patch Notes
Factions
Harvard Bonin Interview
Arsenals:
Allied Units
Allied Structures
Soviet Units
Soviet Structures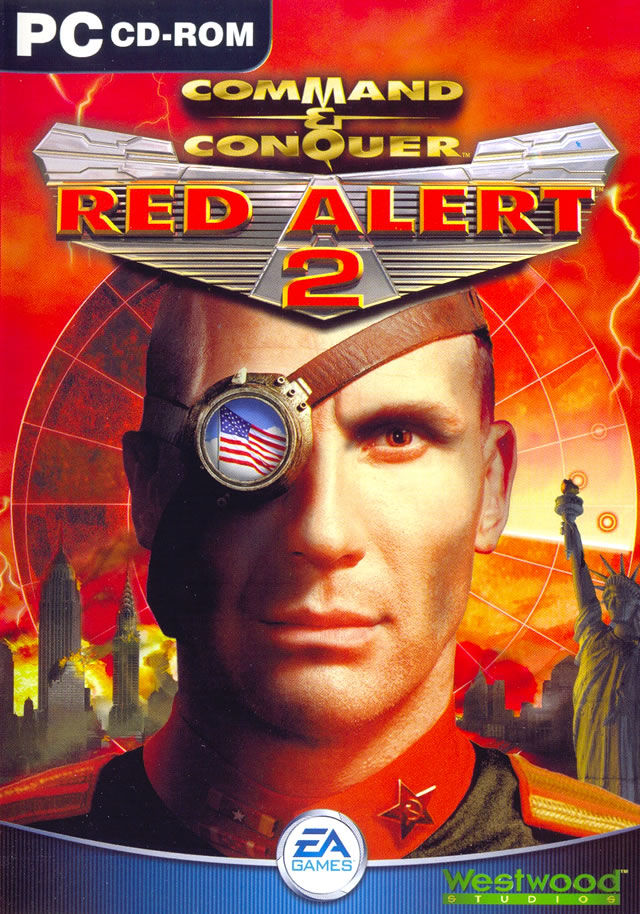 Game Tracker
Developer Westwood Pacific
Publisher Electronic Arts
Platforms Windows
Release Date 26/10/2000 (US/FR) | 27/10/2000 (UK/DE)
Current Version 1.006
What is Red Alert 2?
Announced by Westwood Studios on 13 April 2000, Command & Conquer: Red Alert 2 is the long-awaited strategy sequel to the number one strategy before its time, Red Alert. The Soviets are back and this time they're on American soil. Fight for the red, white, and blue – or just the red. But be careful – the mystical madman Yuri, with his mysterious mind-control technology, is readying his army for a shot at world domination.
In Command & Conquer: Red Alert 2, Westwood Studios have continued its tradition of producing movie-quality cut scenes. The Red Alert 2 live-action cast, including Udo Kier as Yuri and Kari Wührer as Tanya, bring a set of realism to the player never before experienced in a real-time strategy game. This game was Westwood Pacific's first entry to the Command & Conquer universe, and the first major title in the series not created by the main Westwood team from Las Vegas.
Based on a heavily modified (and fixed) engine from Tiberian Sun, Red Alert 2 expanded the overall gameplay in many ways. For the first time, all units and structures (except Engineers) were completely visually different, and factions were divided into 9 subfactions (countries) – 5 for the Allies and 4 for the Soviets, each with their own unique unit, building or support power. Tech buildings have been introduced as neutral objects that can be captured for different benefits. Most civilian buildings can be garrisoned by basic infantry (G.I.s and Conscripts) for protection and a considerable firepower boost, and seeds of the customizable units concept have been sown for C&C with the Allied IFV that can change its weapon based on the transported infantry unit. Co-operative campaigns make their first appearance in C&C, and are exclusive to multiplayer, as well as numerous multiplayer-specific game modes that are not simple battles.
Video Trailer
Features
Take charge of seven unique nations including: Britain, Korea, and Cuba for maximum multiplay mayhem.
30 skirmish and multiplay maps take the battle to the seas, to the streets, to the snow…even to the zoo.
Hate getting smoked on the battlefield 'cause you're too busy harvesting minerals? Red Alert 2's streamlined design frees you from micro-managing your base so you can focus on the front lines.
Red Alert 2's enhanced AI makes for a computer opponent that's every bit as devious and ruthless as any clan geek. Watch the computer respond to your strategies-and come up with plenty of its own.
Red Alert 2's vast arsenal of land, sea and air units offer new levels of brain-busting strategy. Infiltrate with Terror Drones. Crush 'em with Apocalypse Atomic Tanks. Light 'em up with Prism Cannons.
Names in different languages
Simplified Chinese: 命令与征服:红色警戒 2
French: Command & Conquer: Alerte Rouge 2
German: Command & Conquer: Alarmstufe Rot 2
Ratings
ESRB: Teen | Animated Violence
ELSPA: 15+
PEGI: 16 | Violence
USK: 16
OFLC (AU): M15+ | Medium Level Animated Violence
SELL: 12
Find out more?
We have collected all the information and pictures that show this truly magnificent game. To find out what we have, you can browse the black menu to the left.
Comment