Menu:
Overview
Firestorm Forum
Install / Patch Guide
Downloads
Images:
Ingame Screenshots
Concept Art
Information:
The Story
Patch Notes
First Impression
Arsenals:
New GDI Weapons
New Nod Weapons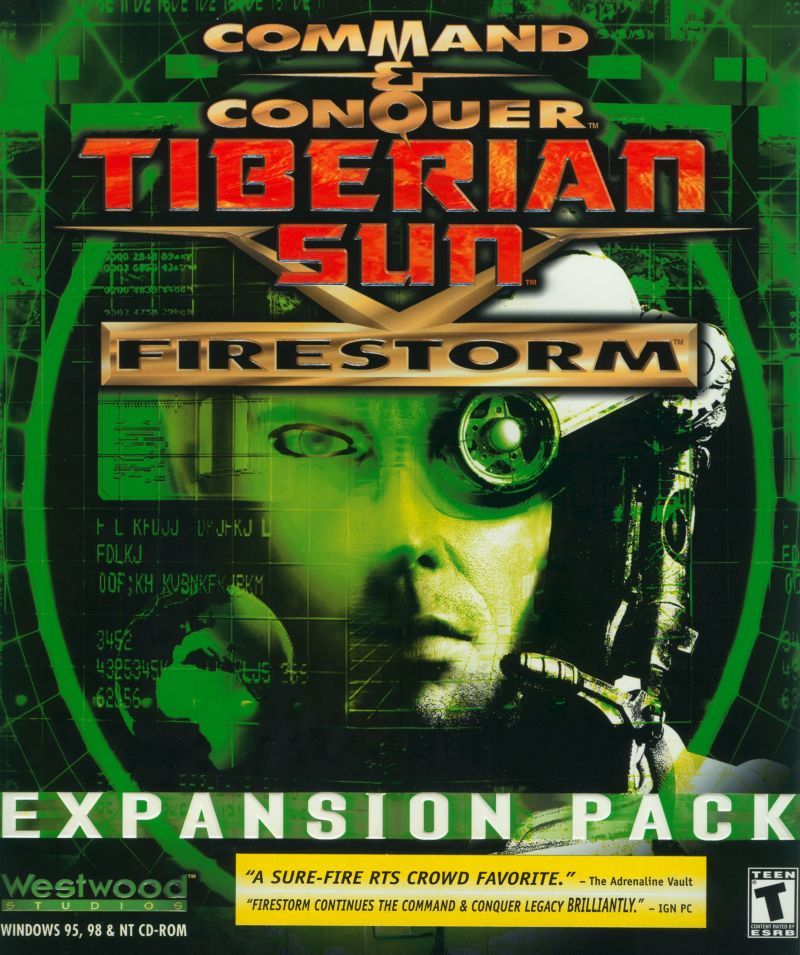 Game Tracker
Developer Westwood Studios
Publisher Electronic Arts
Platforms Windows
Release Date 07/03/2000 (US) | 16/03/2000 (DE)
Current Version 2.03
What is Firestorm?
Firestorm is the official expansion pack for Tiberian Sun, released in March 2000. It follows the events that occur right after the Second Tiberium War, with GDI command claimed by the Southern Cross base after an ion storm cut the link to the Philadelphia station, and Nod licking its wounds and trying to reactivate their AI CABAL, knowing not what secrets it holds.
Firestorm is the first C&C game that has both of its campaigns (9 missions each, no side-missions this time) part of the canon, and occur simultaneously. New units and buildings for both sides have been introduced, as well as modifications to existing ones. New Tiberium life forms known as Floaters have been added, as well as new skirmish/multiplayer maps and the World Domination Tour multiplayer mode, which was only available on the old Westwood Online server, which had players fight for a specific area on the map in GDI and Nod teams, and after a while, the map would reset.
Firestorm changes the Tiberian Sun executable in such a way that it allows players to switch back and forth between the expansion and the base game.
Video Trailer
Official Feature List
New Missions and Multiplayer Maps – Created by the original Tiberian Sun team, Firestorm contains an arsenal of new features, weapons and hidden secrets. Firestorm features 18 new single player missions, 10 new multiplayer maps.
New Units – Firestorm gives you more units to wage war with these are the Mobile EMP Cannon, Juggernaut, Drop Pod Control Plug, Mobile War Factory, Fist of Nod, Limpet Drones, Mobile Stealth Generator and the Cyborg Reaper!
Enhanced Battlefield Randomizer – Players are able to add vein hole creatures, Tiberium life forms, day to night transitions, etc.
World Domination – Now you can track your progress in the fight for world supremacy! Pick your side then join other GDI and NOD commanders in the all-new World Domination tournaments! The map will be split into pieces where thousands of players will fight for global supremacy. When one side grabs all the real estate, the battle is won and a new World Domination tournament begins.
Names in different languages
French: Command & Conquer: Soleil de Tiberium – Missions Hydre
German: Command & Conquer: Teil 3 – Operation: Tiberian Sun – Feuersturm
Ratings
ESRB: Teen | Mild Language, Realistic Blood, Realistic Violence
ELSPA: 15+
USK: 16
Find out more?
We have collected all the information and pictures to date regarding the game, and you can look at it all by browsing the menu to the left.
Comment