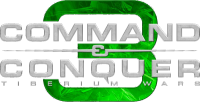 Game Tracker
Developer EA Los Angeles
Publisher Electronic Arts
Platforms Windows, Mac OS, Xbox 360, Xbox One, Xbox Series X|S
Release Date (Win) 26.03.2007 (US) | 28.03.2007 (ES) | 29.03.2007 (DE/FR/NL/HR/DK/SE/NO/AU/NZ) | 30.03.2007 (IT/CZ/PL/BR) | 05.04.2007 (RU) | 13.11.2009 (WW – Steam)
Release Date (Mac) 28.08.2007 (US)
Release Date (X360) 09.05.2007 (SG/HK/TW) | 10.05.2007 (US) | 11.05.2007 (UK) | 24.05.2007 (RU) | 25.05.2007 (NZ)
Release Date (X1) 24.01.2019 (WW)
Release Date (XSX) 09.11.2020 (WW)
Current Version 1.09 (Windows and Mac only)
DRM SecuROM v7 + serial key (retail) | Steam API (Steam) | Origin DRM (Origin)
Buy Steam | Origin | MS Store (Xbox One/Series)
What is Tiberium Wars?
Command & Conquer 3: Tiberium Wars is the long-awaited sequel to Tiberian Sun, built on an improved SAGE engine that powered C&C Generals and the Battle for Middle-earth series.
The story begins in 2047, and the world is in an even worse condition than seen in Tiberian Sun. The spread of Tiberium continues to the destroy the Earth, and the world has been divided into different zones. 20% of the Earth's surface is Tiberium-infested and inhospitable "Red Zones", 50% of the Earth is "Yellow Zones", areas where Nod is present and where Tiberium hasn't fully taken hold but is encroaching on the population, and the rest of the Earth is "Blue Zones", where it is safe to live and where GDI is present. The GDI is still trying to prevent the spread of Tiberium and convert the Yellow Zones to Blue Zones.
The Brotherhood of Nod, now a superpower with a majority support of the world's population, launches a major offensive against the Global Defense Initiative, crippling their forces. In March, Nod fires a nuclear missile at GDI's orbiting headquarters, the GDSS Philadelphia, destroying the fulcrum of GDI's military power. In no shape to handle the Nod offensives led by Black Hand shock troops around the globe, GDI commanders take charge, rallying their demoralized troops, hoping to win a third victory over Nod. However, one other threat lurks from the stars – the alien race known as the Scrin, intent on harvesting Tiberium (or Ichor, as they call it) from infested planets. Their arrival reveals some long-hidden secrets…
In terms of gameplay, Tiberium Wars combines a classic C&C experience with Construction Yard-based building and vast arsenals for all sides with the lessons EALA learned with Generals and Zero Hour, namely multiple-factory production, special abilities and upgrades. A large stress was made on improving the multiplayer experience.
Despite the short hiatus in the franchise's release schedule, Tiberium Wars had little issue becoming accepted by the community at large. While some lamented the toned-down lore in the singleplayer campaign, the core gameplay combined elements from titles in other C&C universes and even its preceding Battle for Middle-earth series to create a very tight and enjoyable design.
Command & Conquer 3: Tiberium Wars was one of the official games at the World Cyber Games in 2007.
Video Trailer
Names in different languages
Simplified Chinese: 命令与征服 3: 泰伯利亚之战
Traditional Chinese: 終極動員令 3: 泰伯倫戰爭
French: Command & Conquer 3: Les Guerres du Tiberium
Polish: Command & Conquer 3: Wojny o Tyberium
Ratings
ESRB: Teen | Animated Blood, Mild Language, Violence, Game Experience May Change During Online Play
PEGI: 16 | Violence
USK: 16 (standard edition) | 18 (Kane Edition)
OFLC (AU): M | Moderate Violence
Find out more?
You can look at it all by browsing the navigation menu to the right.