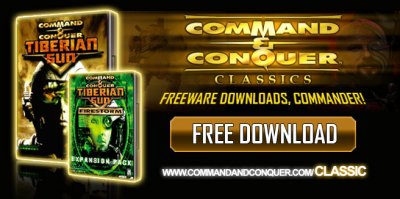 Between 2007 and 2010, EA have released a few of the classic Command & Conquer games as freeware downloads. These were originally available on the official Command & Conquer website. But as of February 2011, the Command & Conquer Classics section is no longer available. But thanks to CNCNZ.com, the classic Command & Conquer games can still be downloaded, complete with installation instructions for getting them working on newer operating systems (Windows XP all the way to Windows 10). You will also find the expansions for Command & Conquer and Red Alert available on this page.
If you're still having problems getting these classic Command & Conquer games to work, consult the relevant game forum in the links below.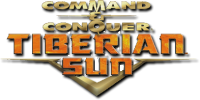 Command & Conquer: Tiberian Sun
Freeware as of 12 February 2010
THE BATTLE FOR THE FUTURE HAS BEGUN!
Set in the early 21st century, Tiberian Sun once again pits the Global Defense Initiative against the Brotherhood of Nod in a struggle for control of the planet. With an epic storyline that unfolds as play progresses, players learn the reasons behind the worldwide outbreak of Tiberium and what happened to the notorious Nod leader Kane, who was presumed dead at the end of the first Command & Conquer.
KANE IS DEAD. A NEW ENEMY HAS EMERGED
It's time to head up the Firestorm task force. Nod's experiments have unknowingly released a horde of cybernetic nightmares upon the world. As GDI and Nod scramble to save themselves, they realize their only salvation lies in the unthinkable.
This download also includes the Firestorm add-on.
[stextbox id="download-tibsun" caption="Tiberian Sun and Firestorm"]
Download Tiberian Sun and Firestorm (1.24 GB)
[/stextbox]
---
Command & Conquer (Gold)
Freeware as of 31 August 2007
WELCOME TO THE NEW WORLD ORDER!
A gritty high tech world where the art of electronic intelligence and covert surveillance reigns supreme. Where guerilla strategies and savage combat are the norm. Build bases, muster forces and dominate your enemies. All for the love of power.
Whether playing as the Brotherhood and obeying the charismatic Kane's every command or taking control of GDI forces as they seek to save the world from Kane's ambition, every detail of Command and Conquer is just as you remember it. The original full motion videos tell the story in what was once cutting-edge and is now quaint, and the gameplay is simple as can be. Gather Tiberium to produce tanks, infantry and more to decide the fate of the world.
[stextbox id="download-tibdawn" caption="Tiberian Dawn and Covert Ops"]
Tiberian Dawn – GDI Disc (580 MB)
Tiberian Dawn – Nod Disc (580 MB)
Covert Operations Disc (295 MB)
[/stextbox]
---

Command & Conquer: Red Alert
Freeware as of 31 August 2008
SURRENDER IS NOT AN OPTION
Dark experiments have permanently altered time. Or have they? Now, Soviet tanks crush city after city while Allied cruisers shell bases. Spies lurk, land mines wait, and strange new technologies aid both sides in their struggle for ultimate control. The mighty Soviet Empire has begun to "liberate" all of Europe. Cities fall and countries collapse before the overwhelming might of the Red Storm. The Allies are scrambling to meet the onslaught, but they have been caught by surprise.
With over 40 missions across an interweaving storyline, and a riveting soundtrack, Command & Conquer Red Alert's superb gameplay is still easy to take hold of and highly addictive after all these years, Red Alert puts the fate of the world in your hands!