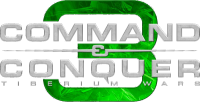 "I want you to have the privilege of starting the Third Tiberium War. A war to end all wars….
Go ahead, my son, push the button… Inscribe your place in history with the blood of GDI."

— Kane, Brotherhood of Nod Leader
Command & Conquer 3: Tiberium Wars – Single Player Demo
Get an early preview of Command & Conquer 3: Tiberium Wars with the new single player demo. In this demo version you can sample the following features.
Play through a tutorial mission to learn how C&C 3 plays
Play two prologue campaign missions as GDI, the first one based in North Carolina, the second based Egypt
View a great The introductory FMV starring Michael Ironside and Grace Park
Its GDI versus Nod, battle over skirmish map called Small Town USA, with four difficulty levels ranging from easy to brutal
Demo Screen Shots
A few sample screen shots from the C&C 3 demo, there are more available by clicking here.
Demo Download Mirrors
We have put together a list of alternate download mirrors for the Command & Conquer 3: Tiberium Wars demo to help make this big download just a little bit easier for you. The file size is 1.17 GB.
Download CnC3Demo.exe (1.2 GB)
If our mirror does not work for you, try out these ones: