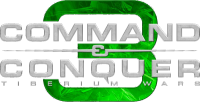 This is a list of important characters in Command & Conquer 3: Tiberium Wars and the names of the actors or actresses portraying them.
Global Defense Initiative
General Jack Granger
(Michael Ironside)
GDI Commanding Officer
A seasoned veteran who rose through the ranks through military achievement rather than political savvy. General Jack Granger is a tough, no-nonsense commanding officer. His experience in two wars against Nod has netted him valuable insights into any military situation – and the confidence and courage to enact a strategy for victory.
GDI Director Redmond Boyle
(Billy Dee Williams)
GDI Acting Director
Lesser men would have crumbled under the weight of such trying times, yet when fate thrust Redmond Boyle into the position of Acting Director of GDI, he stepped up to the challenge. A charismatic but brash leader, Boyle is the public face of GDI and is clearly intent on vanquishing the Brotherhood of Nod at all costs.
Lt. Sandra Telfair
(Grace Park)
GDI Communications/Intelligence Officer
Lieutenant Sandra Telfair is the special assistant to General Granger at Central Headquarters. With a background in military intelligence, Sandra is a very capable officer in her own right. Her astute assessment of Nod tactics may come in handy.
Lt. Kirce James
(Jennifer Morrison)
GDI Intelligence/Operations Officer
A consummate professional and exceptional military officer, Lieutenant Kirce James is exactly the kind of soldier any commander wants on his side. She has access to hard intelligence data, as well as GDI's most powerful weaponry. Invaluable.
Brotherhood of Nod
Kane
(Joe Kucan)
Brotherhood of Nod Leader
The man known only as Kane is the supreme leader – some might say messiah of The Brotherhood of Nod. Kane epitomises the fine line between genius and madman, so it's little wonder that the world seems to be polarised either for or against him. His followers believe that he prophesied the existence of Tiberium, yet his actions seem to belie hidden agendas and megalomaniacal impulses.
General Kilian Qatar
(Tricia Helfer)
Nod Second in Command
General Qatar is an extremely charismatic and – when the situation demands – incredibly ruthless leader. Nod's second-in-command, Qatar rose through the ranks on both her laurels as superb military tactician and her unwavering loyalty to Kane… although it becomes obvious she sometimes doubts his own tactics.
Ajay
(Josh Holloway)
Nod Intelligence Officer
Ajay is Nod's military planning expert. A brilliant intelligence officer and a cunning tactician, Ajay has repeatedly proven his ability to create blueprints for complex – and very successful – military operations. An experienced soldier, he is never far from the front where his brothers fight to execute his plans.